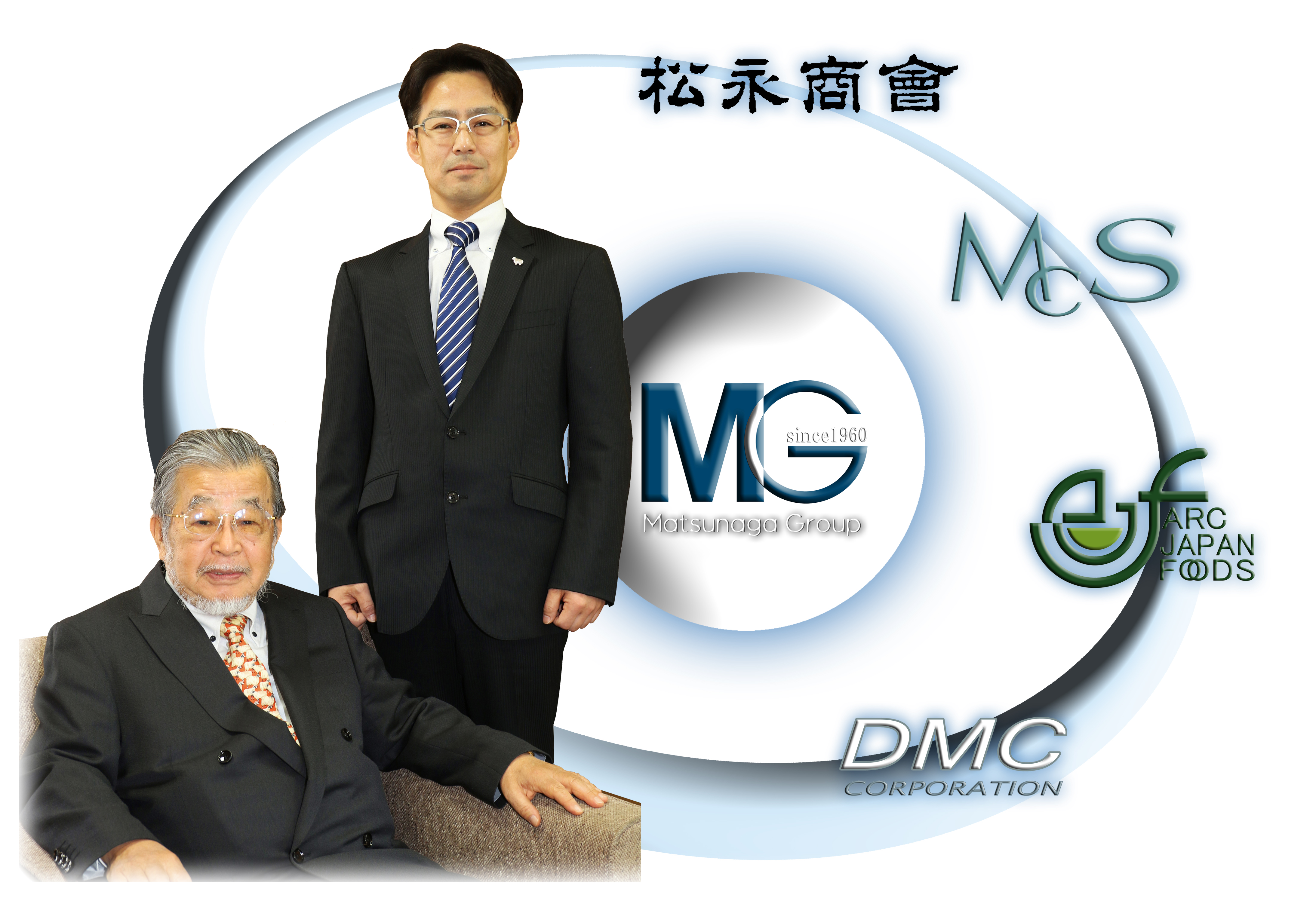 ---
About Matsunaga Group
We have four bases in Japan: Hokkaido, Aichi, Fukuoka and the head office in Toda-Shi, Saitama. Through group network we promise to provide valuable products which meet the specific needs of our customers.
Group Network
Matsunaga Corporation
Head Office/Kanto Office
Hokkaido Office



 2507 Niizo, Toda-Shi, Saitama, 335-0021, Japan
 3-1-1 Shintomicho-Nishi, Kitahiroshima-Shi, Hokkaido, 061-1127, Japan
 (An establishment approved for the export of animal casings to the European Union
  Number 0153001)  

MCS Company, Ltd

 2-17-24 Minamifutajima, Wakamatsu-Ku, Kitakyusyu-Shi, Fukuoka, 808-019, Japan

Arc Japan Foods Co.,Ltd.

 120-2 Azanakashinden, Nishiyachou, Kasugai-Shi, Aichi, 486-0908, Japan 

DMC Corporation.

 2507 Niizo, Toda-Shi, Saitama, 335-0021, Japan
For the detailed information →Access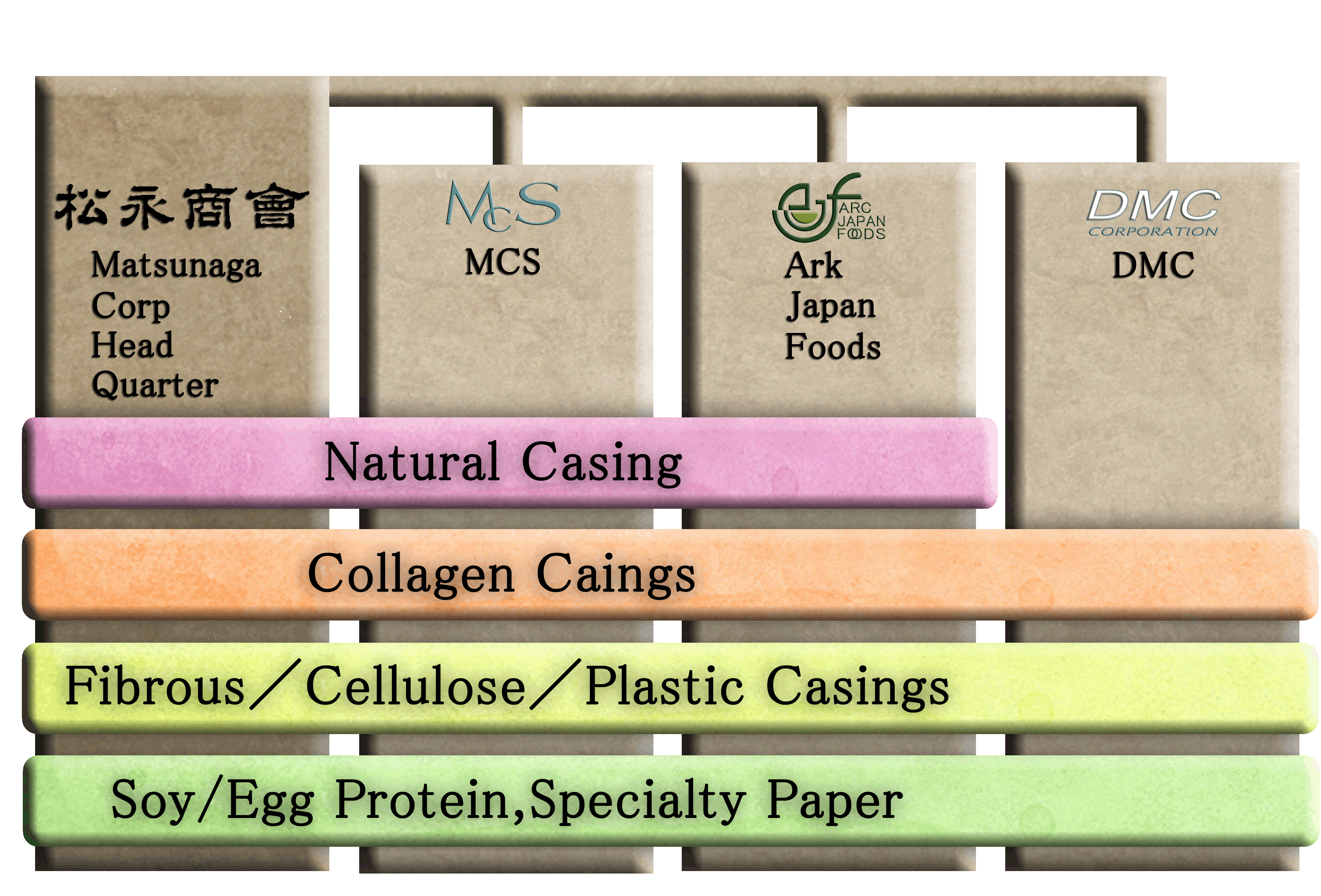 Corporate Information
Established


June 29, 1960
Founder: Harukichi Matsunaga(1912〜1983)

Capital

\40 million

Board Members


President and Representative Director   Yoshiro Matsunaga
Representative Director          Hirosuke Matsunaga

Employees

145 people

Activities

1.Import, Process Sales of Natural Casings.
2.Sales of Artificial Casings.
3.Sales of Food Additives.
4.Import and Sales of Towels.
5.Import and Sales of Animal Blood Serum.

Banks       

MUFG Bank,Ltd. Akabane-Ekimae Branch.
Sumitomo Mitsui Banking Corporation, Akabane Branch.
Mizuho Bank,Ltd. Akabane Branch.      

Clients

NH Foods Ltd.
Itoham Foods Inc.
Prima Meet Packers, Ltd.
Marudai Food Co.,Ltd.
Japan Ham & Sausage Processors Cooperative Association.
Others

MG Group Companies      

Matsunaga Corporation
MCS Company, Ltd.
Arc Japan Foods Co.,Ltd.
DMC Corporation
Beijing Matsunaga S/T Corporation
Baoding Dongfang Casing Co.,Ltd.
Baoding Dongfang Foodstuff Co.,Ltd.
Japan Foods India Pvt. Ltd.
Corporate History
1960

Matsunaga Corporation established at Simo, Kita-ku, Tokyo, Japan.

1967

Nagoya Office opened.

1975

Ageo Factory opened.      

1977       

Toda Office opened.      

1983       

Ageo Factory newly rebuilt.      

1987


Nagoya Office opened.
MCS Co.,Ltd. established as a subsidiary.             

1988       

Kyusyu Office established by MCS.      

1992
      

Head Office building newly built at Toda, Saitama
(Head Office moved from Shimo, Kita-Ku, to Toda Saitama)       

1994       

China-Japan Huzhou Global Casing Co.,Ltd. (China) established as an affiliated company

1996      

Kansai Office opened     

1997


Baoding Dongfan Casing Co.,Ltd. (China) as an affiliated company.
Japan Foods India Pvt.Ltd. (India) established as an affiliated company.

2000



      

Kansai Office opened
Hokkaido Office opened.
Nagoya Office newly rebuilt.
DMC Corporation established as a subsidiary.
Baoding Dongfang Foodstuff Co.,Ltd. (China) established as an affiliated company.      

2003    

Nagoya Office became a subsidiary company, named Arc Japan Food Co.,Ltd.  

2004


Beijing Office opened.
Beijing Matsunaga S/T Corporation established.      

2007

Beijing Matsunaga International established.

2021
      

Completion of the new Nagoya office building of Arc Japan Foods Co.,Ltd.
(Moved from Miyukichou, Kasugai-Shi)